Summer Bouquet Vase 8 inches (Old Tupton Ware)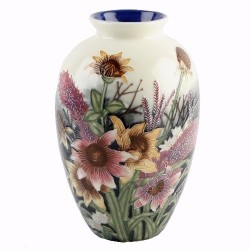 Click on Images to Enlarge.
Gift Wrapping service available on this product
£49.95 (Inc. VAT)
RRP £59.99 - You Save £10.04 (16.74%)
In Stock.
Delivery Time 2-4 days for this product.
Free UK Delivery on this item!

Stunning Summer Bouquet Design Vase in Presentation Gift Box. A wonderful gift idea!

The name Old Tupton originates from the village of Old Tupton in Derbyshire. The idyllic village setting is the inspiration for these collectable designs. Old Tupton now boasts many exclusive designs having established itself as a collector's brand of quality ceramic ware.
Each piece is hand made using a unique production process called tube lining - this gives the raised outline of the pattern. Each piece is unique.
8 inches tall wider vase.
Dimensions:
H:21 W:12 D:12 cm
Ask us a question about this product.
View Printer-Friendly Version
Email this product page to a friend.